March, 2016
Sadly we learned that handsome Harrison passed away in March, just a few days after his one year anniversary with Jan.  Closely thereafter, another Wire, named Ginger who we were able to place directly into Teresa Brockie's home, also passed away.
We received a communication in the past few weeks from these two very special Wires– that they left the sides of our adopters, Jan Ardell and Teresa Brockie, who loved them beyond words. They did not want to leave, but the time came for them to be carried in their beloveds' hearts and no longer in their arms. They are grateful for their last acts of kindness and remind them that so long as there is a place in their hearts which is the shape of them, they can be with them always and everywhere.
Harrison Ardell and Ginger Brockie want Jan and Teresa to know that they are held in the highest esteem among rescue adopters for they both adopted them when they were senior dogs and put aside their needs for a longer journey of love together. Instead, they welcomed them despite knowing the journey would be a shorter one.
Harrison says he did not mean to fool anybody, but somehow his age got mixed up and when the mistake was discovered, he turned out to be 13! He is so grateful that Jan kept her appointment at the Rescue and loved him at first sight anyway. After all, he was still very handsome and still liked to play! He stayed as long as possible and is very sorry it was only a year.
Ginger says she was glad she just had to go a few miles up the street to meet Teresa and not make the long trip from Temecula to the Rescue. She was confused because her mom got so sad and sick that she attempted to take her own life and had to go to the hospital. Ginger wants Teresa to know that she loved how Teresa took her in and loved her and comforted her despite her being almost 9. She really liked that she had the run of the house and got to sleep on sofas and in the bed! It helped her so much to make the adjustment to a new home. She knows Teresa appreciated what a good girl she was and how she was nice to all the other rescued doggies in the house. She' s sorry about the cancer and thanks Teresa for doing all she did to keep her comfortable until her compassion meant letting her go.
We, of course, join in with everything Harrison and Ginger had to say. After all, they are as smart and perceptive as Wires everywhere are. We are sad too, and share their tears but we are comforted by having adopters like Jan and Teresa for our older Wires.
Run free Harrison and Ginger! We will look for you when forever is ours!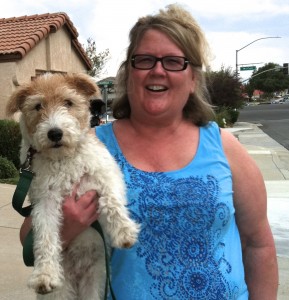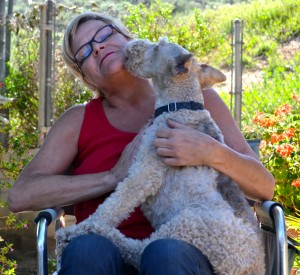 (Harrison went home with Jan on March 8, 2015. Jan was anxiously waiting for a Wire to adopt. She had just lost her boy, Jack. Jan previously adopted another Wire, McDuff, from us. Harrison had just lost his home in San Diego due to his owner's illness. Luckily, Jan was waiting for him and he only made a brief stop at the Rescue)