Here's the promised update on Shandy and it is such good news. Our secretary, Roberta Scott, took Shandy home and together they embarked on an amazing journey. Roberta was a patient tutor and Shandy was her somewhat distracted but willing pupil. Here's Roberta's description of their journey!
"Shandy, formally an uncivilized whirlwind, innocent of of language comprehension, with boundless energy, an uninhibited desire to ricochet from the top of one item of furniture to the next, (and a willingness to lift a leg to anoint it,) has transformed.
Shandy is now conversant in English, Spanish and hand signals. He has developed patience to wait his turn at meal and puzzle time. He has demonstrated the skills to live with two bossy Chihuahuas. He self limits his furniture resting spots to those allowed.
He is polite in the morning, waiting quietly for a greeting and a trip outdoors rather than waking a sleeping human.
He doesn't mind frequently being told that he's a VERY good boy!"
We are very grateful to Roberta for recognizing Shandy's potential and for taking the time to help him become an ideal companion. Since Roberta can no longer foster and Shandy has made such remarkable progress, it is time for his very own home! Shandy will require daily medication to help him focus and continue his A+ behavior but it is not a serious drawback in exchange for such awesomeness!
Shandy's rescue story:
This handsome guy very much resembles a Lucas terrier – a breed found primarily in England!
Shandy was found injured on the streets of Long Beach, CA. The vet at the shelter surmised that he had been hit by a car and suffered multiple fractures. They lacked the resources to help him and he was destined to be euthanized within hours when a volunteer desperately got in touch with us. We rushed to the shelter and then to our vet. Fortunately, Shandy actually had no fractures, just soft tissue damage! He does have a bit of an issue with his left knee called a luxating patella. But he is not showing any symptoms and this condition may not progress at all.
He is lucky to now have a clean bill of health and is happily getting into mischief like his terrier counterparts. He's very spunky and loves to play. This energetic four (maybe 5) year old gets along fine with other (mellow) dogs but would probably like having someone all to himself. Shandy weighs in at 24 pounds so is just the right terrier size. He likes having someone around as much as possible so he will provide a lifetime of companionship and devotion. He may be a bit of an escape artist, but he is also the kind of pup who will be waiting anxiously for you to come home and play. Shandy is currently enrolled in training classes and is proving to be an eager to please and bright student. He has it all – looks AND talent. Shandy has been neutered, had his teeth cleaned and is up to date on all his vaccinations. The only thing he needs now is a loving home!
Don't count out a terrier mix for being one of your best dogs ever! Shandy is one of a kind! He will be all ready to sit on your lap or take long walks and is always ready to play! He will a loyal, loving and fun companion for the lucky person who is clever to appreciate good looks and talent!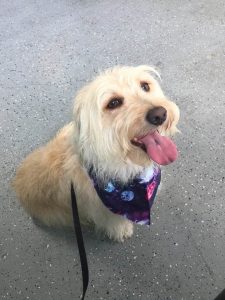 Shandy on rescue day

Being comforted by Tom Millington at the Rescue the day he came in

A new day – feeling better

Hanging out with Simon

Watching Belle, the Wire, jump for treats

Hanging out with Skyler

Getting closer with Skyler

Claiming Ruth's lap

A dignified Shandy