Little Sophie Wink, our one-eyed Lakie Terrier was adopted by the Wallace family on December 1st.
Sophie has been abandoned at a pet hotel in Korea and was destined to be used for breeding until a kind rescuer heard of her plight, intervened and contacted us. Sophie made the long lonely and daunting trip to Los Angeles last March.
Now there are no more worries but a loving home and lots of love in her future.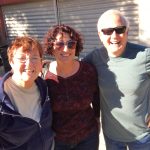 Lynne and Jeff Wallace with Sophie on adoption day